Higgy's House is proud to be a Healthy Ireland Preschool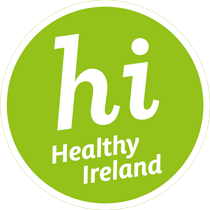 The Healthy Ireland programme is specifically designed for pre-school children aged between three and five years of age and encompasses all aspects of a healthy lifestyle: oral health, physical health, health & safety, emotional well-being & literacy as well as nutrition & healthy eating. Higgy's House staff took part in the Smart Start training programme and then underwent an inspection to gain our Healthy Ireland Preschool accreditation. To maintain this accreditation we are inspected every 3 years.
Nutrition
At Higgy's House we have always and continue to prepare all our food in house, with fresh ingredients. We keep up to date with the latest nutrition and diet information for children, providing a varied and nutritious diet. We see mealtimes as an opportunity for the children to socialize, learn about food and develop healthy eating habits.
Each week our menu is displayed in reception. The dishes vary from week to week with staff and parents contributing new recipes and ideas for us to try! Our recipes of the week prove very popular with the parents and many families enjoy cooking a "Higgy's dinner" at home.
Some of our most popular dishes are our Chicken curry and our homemade scones and bread.
No added Salt is used in the preparation of any meals. Portion sizes are in line with recommendations from Safefood, (What is a serving size? A guide for Pre-schools). Drinks offered are milk and water.
The children are encouraged to try all food offered and food is not used as a punishment or reward.
Allergies are catered for and all allergens contained in foods prepared, are listed on the weekly menu.
Children who attend our ECCE mornings, while welcome to bring their own lunch are encouraged to bring healthy snacks in-line with our healthy eating policy. We encourage parents to send milk or water to drink and no juice.
Products containing nuts or nut products are not allowed due to allergies.
Sweets, chocolate and crisps are not allowed as they are not in line with our Healthy Eating policy.
Please see below some useful links for healthy lunch box ideas.
School Packed Lunch Inspiration
Higgys House Weekly Menu (Sample)
Day
Morning Snack
Lunch
Afternoon Snack
Monday
Biscuits and Milk
Tuna Pasta Bake
Fruit
Pitta pockets with ham & cheese, natural yogurt with fruit puree, Milk
Contains Allergens
Dairy, Wheat gluten
Wheat gluten, Dairy, eggs Fish
Wheat gluten, Dairy
Tuesday
Fruit and Milk
Chicken Noodle Stir- Fry Fruit
Beans on toast, natural Yogurt with fruit puree, Milk
Contains Allergens
Dairy
Eggs, wheat gluten, Soya sauce
Wheat gluten, Dairy
Wednesday
Fruit and Milk
Beef Goulash with Rice Fruit
Waffles with Honey, natural Yogurt with fruit puree, Milk
Contains Allergens
Dairy
Eggs, Wheat Gluten Dairy
Thursday
Toast and Milk
Bacon & Potato pie with peas Fruit
Hummous with breadsticks, natural Yogurt with fruit puree, Milk
Contains Allergens
Dairy, Wheat gluten
Dairy
Dairy, wheat gluten
Friday
Fruit and Milk
Lasagne Fruit
Shortbread biscuits, natural Yogurt with fruit puree, Milk,
Contains Allergens
Dairy
Wheat gluten, dairy, eggs
Dairy, Wheat gluten